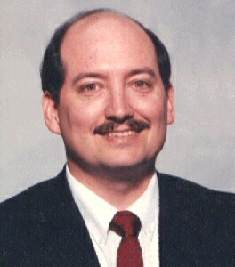 Date of Birth
4/23/56
Location
Minnesota
Marital Status
Married
Occupation
Project Manager
Religion
Omnispiritualism
---
My
Favorite Links
Omnispiritualism
Discussion Group
I was born in Washington, D.C., and raised in Maryland through elementary school. My family moved to Minnesota, where I attended junior and senior high school. I received awards in school for debate, singing, and theater. In my senior year, I played the lead in "The Music Man."
After one year of college, I joined the Air Force. I stayed in the Air Force for six years. I was a Radiologic Technologist, or "X-ray Tech." I received an Associate degree in Applied Sciences, and achieved the rank of Staff Sergeant. I spent my last month in the Air Force touring Europe by myself. I visited Spain, Italy, France, Luxemborg, Switzerland, Germany, England, and the Netherlands. I left the Air Force and returned to Minnesota to attend college on the GI Bill.
I joined MENSA, an international social organization for people with IQ's in the top two percent of the general population. At the first MENSA event I attended, I met the woman who was to become my wife, and about a dozen other people who are still friends almost twenty years later. Several of them also belonged to other high IQ groups. After attending several of their meetings, I joined the Triple Nine Society, which is similar to MENSA but limited to those with IQ's at or above 99.9%'ile.
I received a B.A. in Psychology from the University of Minnesota. I did some temp work for a while, and became a computer programmer and consultant. I started working for Games by James and became a professional game developer (not computer games). I have worked for several different companies as a programmer, systems analyst, and technical team lead. Currently, I am a project manager.
Many years ago I experienced a spiritual epiphany, or revelation from God, which led me to create my own religion. I have named it "Omnispiritualism." It incorporates elements of both Eastern and Western spiritualism and does not clash with science. I am currently working on a book that details my experience and attempts to translate the message I received into words. Until now, I've only shared my beliefs with my wife and a few close friends. A couple of them, including my wife, have adopted it as their own religion.
My hobbies are reading (science fiction, adventure, mystery, non-fiction, etc.), games (chess, mahjongg, bridge, etc.), puzzles (cryptograms, logic, topological, etc.), movies (most kinds), and singing (mostly karaoke, but I was in the Apollo Male Chorus for two years, and have been in other groups). I also enjoy keeping up with advances in science (anthropology, health, medicine, cosmology, psychology, intelligence, computers, etc.) Recently I helped found Polymathica. I plan to use my membership to meet other people who have wide ranging interests.